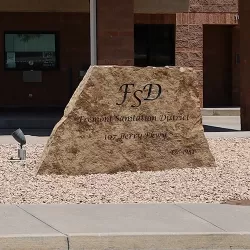 Fremont Sanitation District has been recognized for its ability to treat wastewater, helping to keep our rivers and streams free from contaminants. It is our responsibility to clean wastewater and return it safely to the environment. 
Fremont Sanitation District consist of many departments, three of which are Collections, Construction, and Engineering.  They all work together to fulfill the District's mission - to provide safe, sustainable, and reliable wastewater utility services to our customers with superior quality and value. Fremont Sanitation District is responsible for wastewater collection and treatment in it's defined area. It is also responsible for operation compliance with regional and state regulations. 
We know you are counting on the staff at Fremont Sanitation District to keep the wastewater sanitation system running smoothly, our waterways clean, our wildlife healthy, and our environment pristine. We value the importance of our work we take great care in ensuring the health of our District boundaries and beyond.
Fremont Sanitation District is overseen by a Board of Directors who are volunteers elected under the statutes of the State of Colorado, with staggered terms of four years. FSD is supported primarily by wastewater rates and new sanitary line fees, we are a non-profit public agency.